F8: Facebook Developer Conference & Hackathon Experience
It was such a delight getting to attend F8 2018. For years I've livestreamed Mark Zuckerberg's keynote showcasing Facebook's latest technology, and this year I got to see it in person!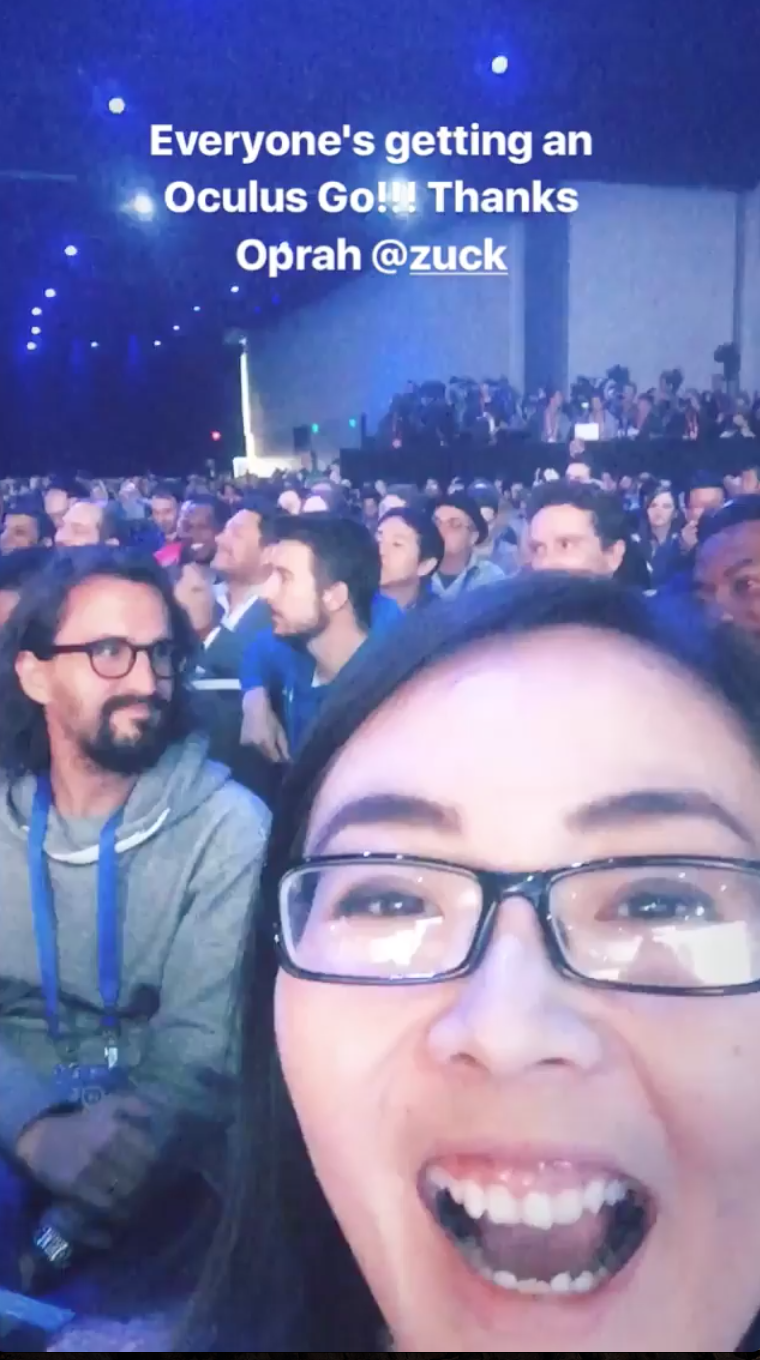 Keynote
The keynotes discussed data privacy, elections, and how Facebook plans to use AI detect and respond to fake news accordingly. The speakers also touched on all the new cool features Facebook plans to roll out (dating, crisis response) as well as Instagram, Whatsapp, Messenger, and AR/VR platform updates within their open source technology. Facebook's tools are definitely powerful in bringing people together and creating communities, as long as long as they're used for good. The presentations and visuals were spectacular in illustrating all the new features on vertical screens placed across the stage. (Facebook Design Team, I am in love.)
Although I'm no longer active on Instagram, I took to Stories to share highlights from the event. Besides the infamous social media aspect of the platform, Instagram is still a great product.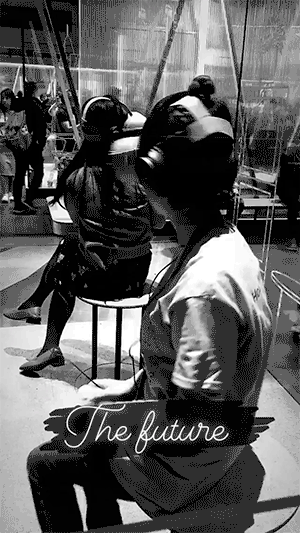 Expo
After the keynotes I went to check out the Festival Hall expo, full of stands and booths and VR demo stations for attendees to play with new technology, ask questions, and grab swag. I was blown away at how well the expo was organized and the F8-branded signage, displays, and environmental design of the event space. All the benches even have outlets!
Hackathon
A large room full of office chairs, beanbags, snacks awaited us as we began our hackathon in the early afternoon. 150 community leaders, developers, and attendees from around the country gathered to share ideas and form teams. Facebook has always been about building community, so it was no surprise the theme of this hackathon involved getting inspired by Facebook community leaders to build software applications that help bring communities closer together.
The Project
Brook Kohn, CEO of DACA Time, pitched his project in front of the crowd. He held up a large stack of papers and told us this was the way hundreds of thousands DACA recipients submit their renewal applications every two years to be able to maintain their DACA status with the USCIS. It involves assembling thorough documentation and heavy immigration lawyer fees.
"Why not digitize this process and make the process easier for DACA applicants??"
And that's how our project began. Our team of four sought to design and create a web app that allows immigrants to fill out this form online. We narrowed our focus to one of the most important aspects of this application: the Evidence Timeline, where one demonstrates they have resided and were physically present in the United States every month since June 2007 through official records, receipts, certificates, licenses, etc. Gathering all this material is extremely hard as one has to recall instances where they've received paper documentation in the last ten years. We thought incorporating the Facebook platform within the app would be a great way to help people remember what they were doing at a specific time in the past decade through location check-ins and life events.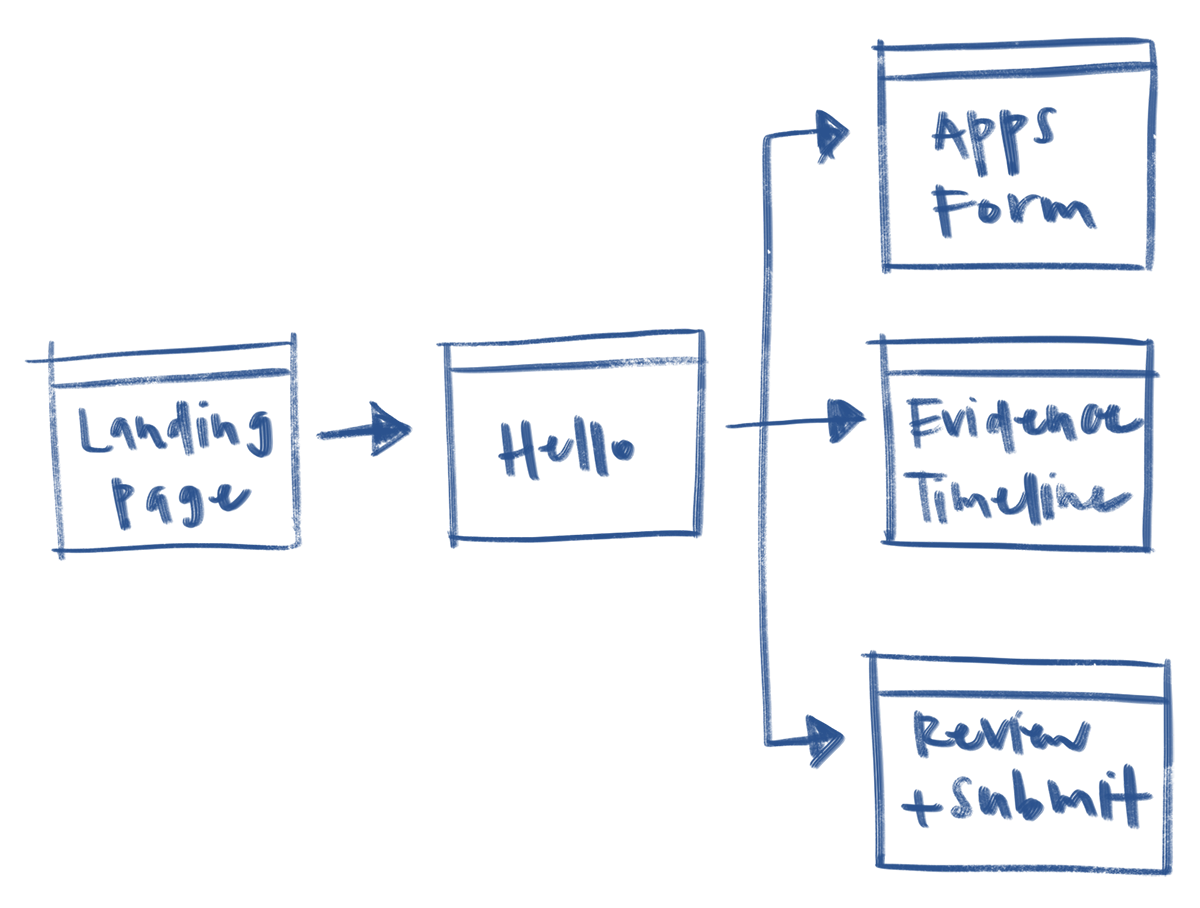 Process
Brook explained to us the details of the what needed to be in the app, and Ethan and Tim got to work developing the back-end of the site. As the designer, I started by drawing page mockups before moving onto a high-fidelity prototype. I created a simple design system in Sketch and designed all the individual web pages, using photos supplied by DACA Time.
The most important page of the app was the Evidence Timeline. This page centers around a chart that shows how much of the monthly timeline documentation the user has uploaded. On the right side of the page is the Facebook timeline that corresponds to the month the user has selected, bringing up locations and check-ins and photos that aid in remembering and finding documentation.
The next morning, I assembled an interactive prototype mockup and created a presentation video that showcased our app for our pitches.
Conclusion
This overnight hackathon was full of its unique struggles, but we had a great time working together on a project we're passionate about and proud of. We wish we could've had more opportunities to present our project and show people the social impact it could have on our community.
This hackathon was one of the most well-organized events I've ever attended. Thank you Facebook and F8 for this unique opportunity to meet inspiring minds and work to build communities around the world.
We finished off the day attending workshops, grabbing our Oculus Go goodie bags, and enjoying appetizers at the Happy Hour event.
F8 was my first encounter with the developer community. Although I have no idea what Caffe2 or PyTorch is, I'm inspired by the open source technologies Facebook shares with the world. There is so much room to grow and dream about the future, where AI helps us communicate with each other, AR allows us to respond to our environment, and VR takes us into a whole new world.
Attended a developer conference was humbling and eye-opening. Facebook is pioneering a community of leaders, thinkers, and creatives who will always continue to build.
Thank you, F8, for this opportunity to learn and be inspired. I can't wait to get into the world of AR and VR and design a better future.