Architecture Portfolio
Cal Poly San Luis Obispo • Bachelor of Architecture June 2017
THESIS: DREAM SOCCER ACADEMY
Fall 2016 - Summer 2017 • Cal Poly San Luis Obispo + Journeyman International
My senior year thesis project calls for a collaboration with non-profit organization Journeyman International. Working with a soccer academy in the rural town of Mamfe, Cameroon, I represent my interdisciplinary team as the humanitarian designer for this project, which centers around social responsibility, focusing on the use of local materials and sustainable design. The focus of the project involves developing a master plan for the entire academy, and designing the architectural component of the dormitory facilities.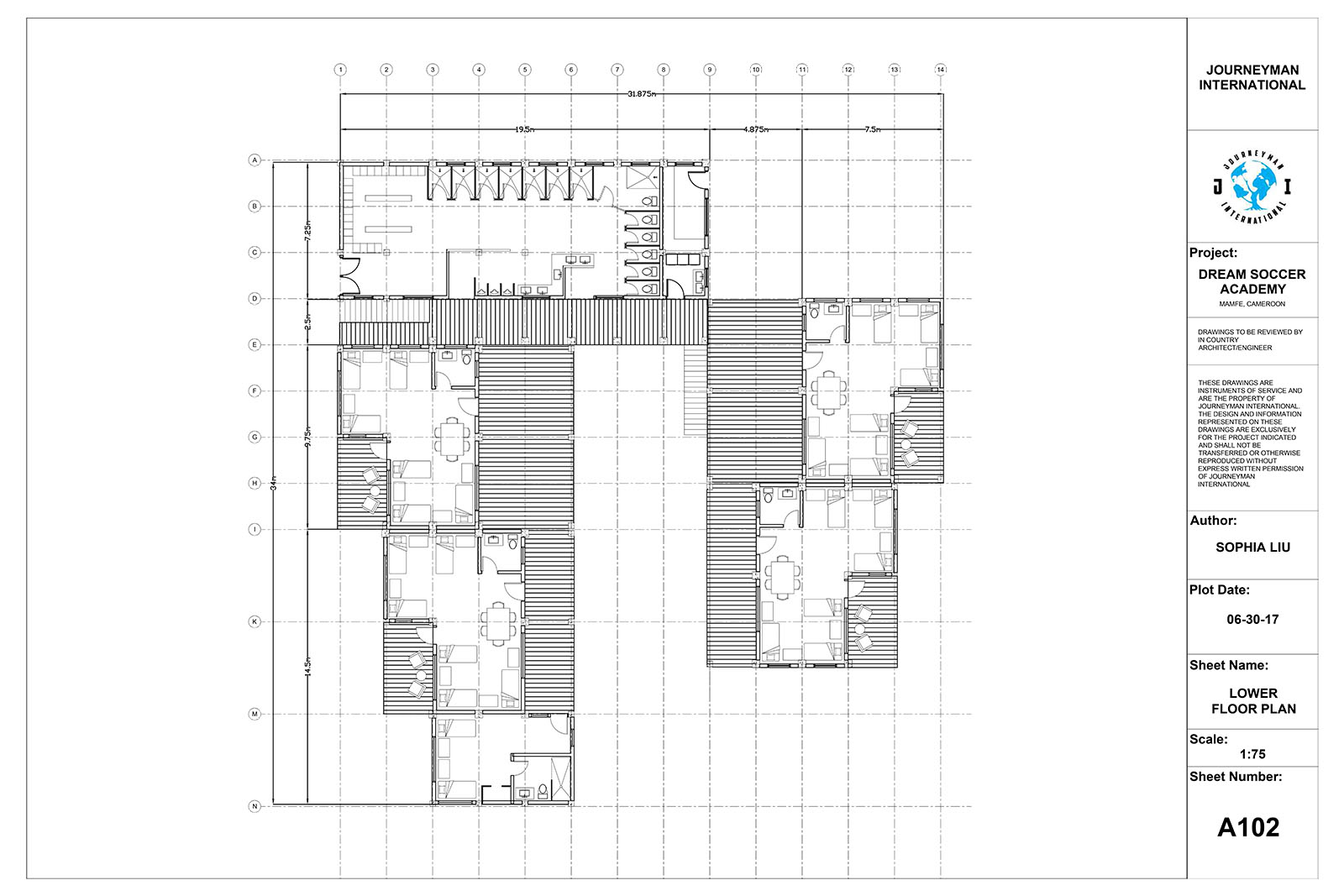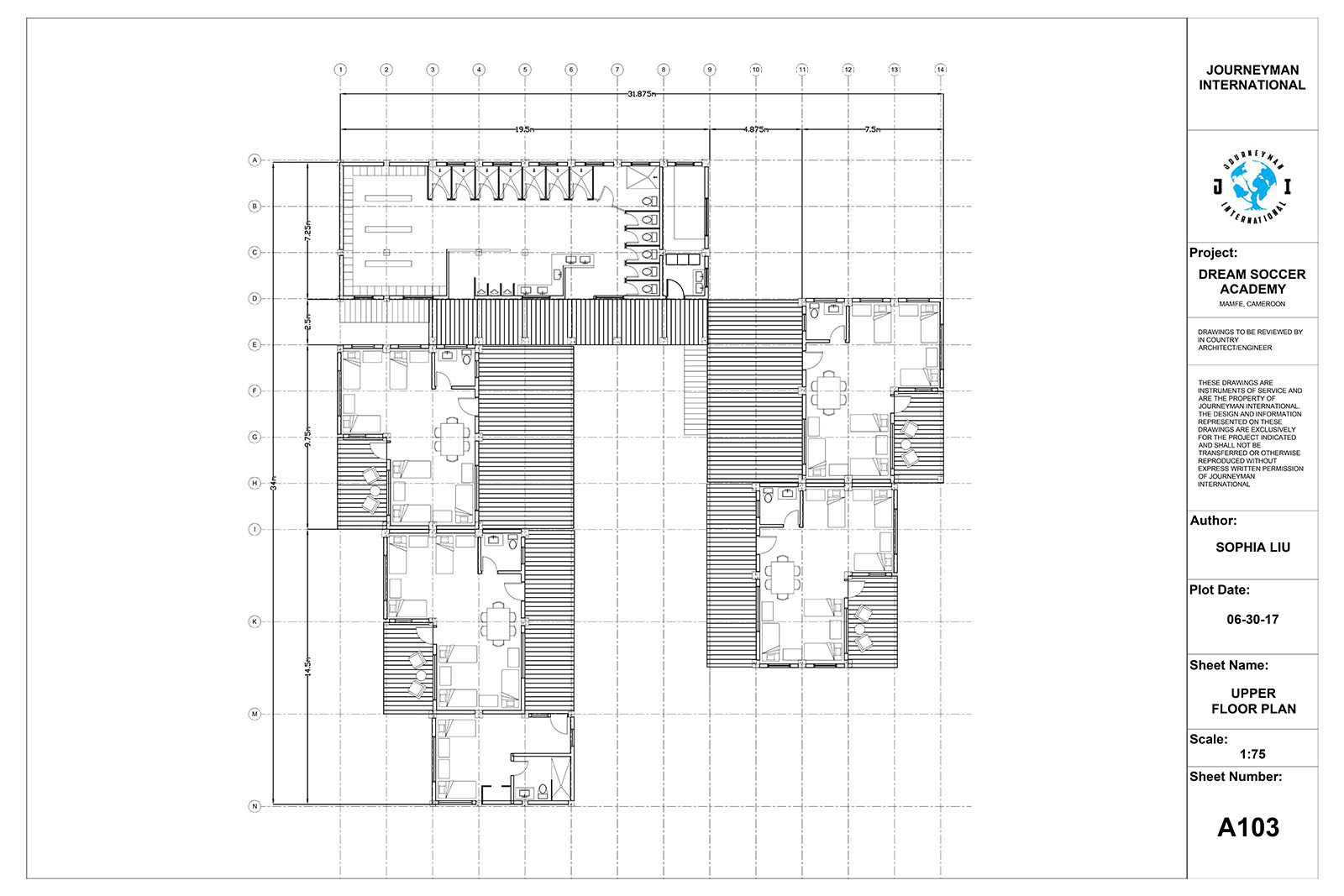 Above
Thesis book that details my research, development, and design processes.
Left
Preliminary Construction Drawings to be submitted to humanitarian partners and in country architects/engineers.
This project was featured on BAR Architects's blog.
SB Architects Intern
Summer 2016 • San Francisco, CA
Assisting project managers and designers, I worked on a number of projects in the schematic design phase. Projects include:
Concept design for a town square located in Forestville, California.
3D massing models, unit/floor plans, and presentation graphics for beach residences in Marbella, Spain.
Design concept models for The Vintage Estate in Napa County, California.
Revise plot sheets and draw plans, elevations, and sections for Park Hyatt in Los Cabos, Mexico.
VELLUm
Fall 2016 • Cal Poly San Luis Obispo
The Vellum Furniture Competition is a design competition and exhibition that encourages students from Cal Poly to create original furniture pieces and have their submissions juried by a panel of experts in their field. Intended to inspire creative thought and challenge participants to press the boundaries of design, the Vellum Competition offers a tangible experience and exposure to the industry. My entry for the competition was the Copper Pipe Chair. Constructed by hand using solely copper pipes and gorilla glue, my chair is a visual tribute to modern art and a practical piece structural enough to hold a single person's weight. Read more here.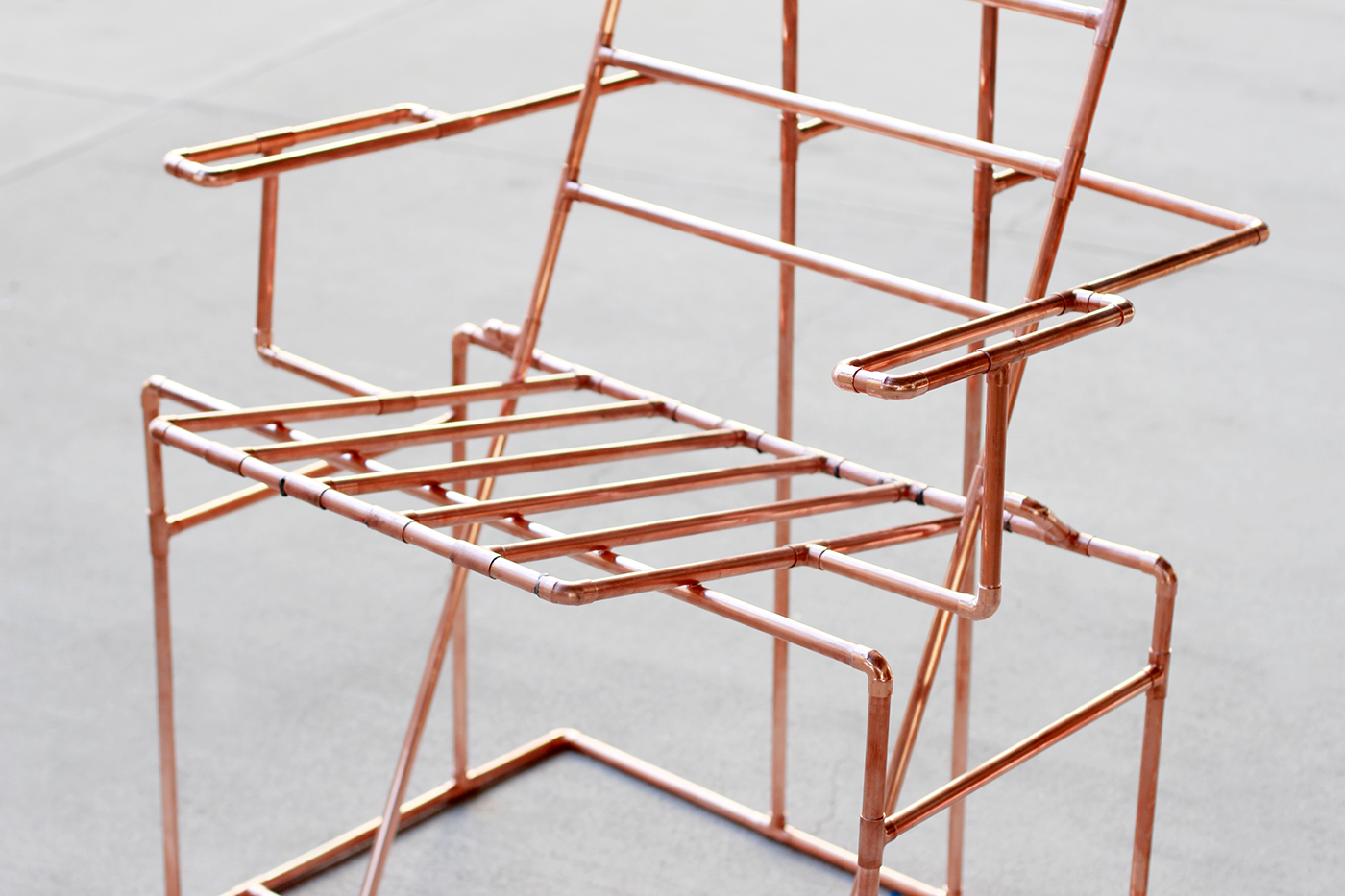 ACSA 2015-2016 Preservation as Provocation: Farnsworth House Visitor Experience
Spring 2016 • Cal Poly San Luis Obispo
As a competition entry for the Associate of Collegiate Schools of Architecture international student design competition, "Deconstructhouse" creates a new Visitors' Center and approach experience to prepare guests for the Farnsworth House. It's a setting for arts programming, education, and inspiration as well as a progressive house museum, providing sufficient space for proper greeting and orientation of visitors, amenities, and staff functions. The new Visitors' Center is modern, dynamic, versatile, and unpredictable, but embraces reality while employing abstraction. It reflects the architectural character and quality of modern architecture by providing a disorienting experience in great contrast to the International Style to create a more vivid and symbolic Farnsworth House experience.
SAN LUIS OBISPO CITY FARMSTAND
Winter 2016 • Cal Poly San Luis Obispo
Located by the Los Osos Valley Road Highway Exit in San Luis Obispo, our site lies in an area of City Farm, nestled between Madonna shopping center, Highway 101, and various shopping plazas and car dealerships. City Farm spans 20 acres on the Calle Joaquin Ag Reserve, divided into small plots to be used for production and farming. The typical U.S. freeway urban drosscape consists of cars, parking lots, and concrete facades of big-box stores, and our site is no exception. City Farm, as both a strong community resource and tourist attraction, aims to encompass farm stands and process, storage, and distribution facilities.
TESTACCIO REUSE CENTER
Fall 2015 • Academic Initiatives Abroad Rome Center
Testaccio Reuse Center occupies a run-down ex-slaughterhouse yard in the Testaccio region of Rome and transforms it into a recycling center that allows visitors to donate or retool household appliances. My project acknowledges the trend of reuse, and focuses on opening up the enclosed courtyard and introducing green space that would allow pedestrians to move through and explore the surrounding context, which include the old slaughterhouse, Monte Testaccio, a portion of Rome's ancient Aurelian walls, and the Tiber riverfront. My project takes visitors from the industrial functions of the reuse center to a public recreational space that effortlessly blends in with its natural surroundings.
SAN FRANCISCO OCEANOGRAPHY INSTITUTE
Winter/Spring 2015 • Cal Poly San Luis Obispo
San Francisco Oceanography Institute is a mixed use education center that incorporates learning, living, and experience. A site rich in culture and history, Sutro Baths is famous for its diverse terrain and magnificent views. The site encompasses ruins from decades past, and this project adds an aquarium and research facility that inspires San Francisco locals and travelers alike to study and experience ocean life by immersing themselves in the historical bluffs.
ZENPLAZA
Fall 2014 • Cal Poly San Luis Obispo
domestic exhibition
Spring 2014 • Cal Poly San Luis Obispo
Check out my graphic design work here.